My 2011 Doctor Who Painting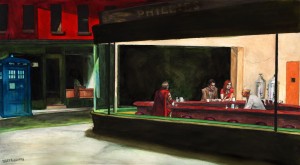 As the days are quickly counting down to C2E2 (I will be at table M7 in Artist Alley), I knew I needed to get my Doctor Who painting done. Every year, I try to bring something new for my Chicago Who fans. So this year's piece is based on Edward Hopper's Nighthawks. It features the 11th Doctor, Matt Smith, and his companions (and a crack) I hope people enjoy it! The second Mona Lisa has been put aside for now, I had other projects that needed my attention, I expect to get back to it at some point soon.
In other news, I started my new  column on Comic Related called Fan2Pro. It is my down and dirty guide to breaking into the comic business, and how to make it a career. Check out the first article here and keep an eye out for more soon!
Oh, and if you are a fan who would like to wear one of my masterpieces on a t-shirt, you are in luck! Check out what I have for sale here on the website!
I have 2 paintings on the docket right now, one will be a parody of a painting that is adaptation of a comic panel based on a Lichtenstein. And the other a bigger version of my Girl with a Pearl Earring parody…the winner of the #1 fan contest commissioned me to paint a large one.